09/25/2021
The land behind me as I painted this view belongs to Neil Young, and I couldn't help but recall him singing the old Woodie Guthrie tune This Land is Your Land:
As I was walkin', I saw a sign there
And on the sign it said "no trespassing"
But on the other side, it didn't say nothin'
That side was made for you and me
Had me tempted to go walking right through his land. But I'm pretty sure it was just a song he was covering and not his life manifesto or anything and if I'd made it very far at all nobody would have thought it was all that witty of me.
And besides, I was dropped off here to paint the view from this ridge and it was far more beautiful looking this way than over at his hills anyway.
I h…
► CONTINUE READING
05/03/2021
So this was different. There's a really great beach park 6 miles north of here that I hadn't painted for awhile. I was on my way through the area and thought it would be fun to return and see what I could do with it after a few years of pushing my art process a little further along. I had the idea to hike to a small bluff just north of the park and explore for a different view from over there. I made it about ten feet from my van and then had an idea.
I recalled reading recently that you could hike to the lighthouse 6 miles south of the park at low tides. I didn't say I had a good idea. But I did have peanut butter and jelly sandwich just before setting out from the van so I figured I'd be good to go and off I went on a whim. Just to see how far I would get.  You know.
The tide see…
► CONTINUE READING
December 11, 2020
He'd laugh this little howling cackle that pulled you into his slipstream as you made your way along the path, down the makeshift rope, repelling into the cove below that you'd never seen breaking before and now was suddenly cracking it's sonic water booms on the reef below. Everything made him laugh. And almost everything he laughed at led you to math, cal…
► CONTINUE READING
November 1, 2020
Woven Recollections from the Return of One of Italy's First Surfers, 50 Years Later
---
I've long thought it would be interesting to explore combinations of longer format story-telling with my art in a more intentional way. Back in early 2019 an opportunity finally presented itself. The only problem was that it would require flying to Italy. If you know me, you know I'm not a traveler. Not like that. I can drive all night and all day on Highway One, but never make it to Italy. This rattled my program. I'd have to finally break down and get a passport.⠀
So in late 2019 I traveled to Italy with a surfer I'd only known long enough to drink two bee… ► CONTINUE READING

08/13/2019
Not quite a proper backstory, and not quite a poem, this one took a rare detour into something else... either way, hope you enjoy the tale.
---
Food running low. The hunter prays for a kill as he reaches into the dusty cabinet for his last handful of oats before the sun sends the shadows scattering to hide behind every rock and tree they can find. Out the window in the pre-dawn light he sees movement, but when he looks intently there is nothing. Just the grassy flat leading to the precipice over the sea. But he can't shake the feeling he's being watched. And he is. I watched him like a ghost all afternoon as I painted these crumbling remains of his cabin. I watched him bumbling about inside while waiting out the days of rain. Talking to his horse. Carrying the bodies of the freshly dead in the afternoons. Drinking himself stupid under the moons. Separated by nothing but 30 paces and time, he saw me once or twice and muttered something to himself. The third time he threw a rock with a yell. His aim was good. It passed straight through my chest. When the painting was finished I packed up my gear while he gathered up his belongings and tucked things here and ther…
► CONTINUE READING
October 22, 2014
---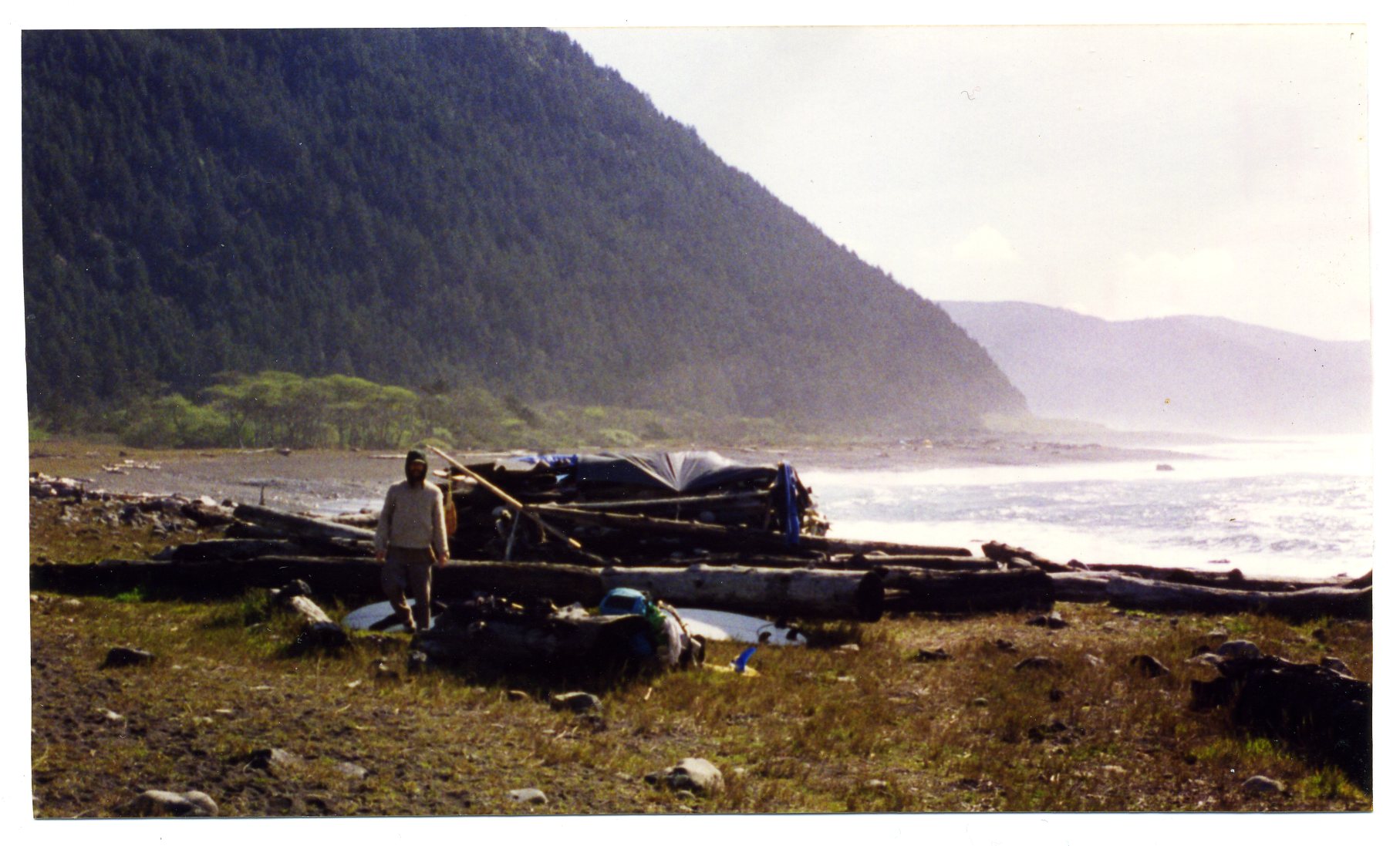 ---
Stories of California: Memories, Recollections, Truth, Lies, and Points in Between
---
The following collection of short tales was an early attempt to establish a narrative to accompany my art in a book format. A handful were printed to test the waters, but it never went into actual production and publication. Later on, it was submitted to Surfer Magazine and was awarded runner-up mention in a writing contest they held. I thought that was pretty cool for a painter. Most of these stories are based on memories from my youth- junior high, high school, and college years.  Some of them are truer than others...
Part I: The Land
Home.
Deep in the anxious nowhere of Los Angeles,  an old home stands in solemn opposition to the thousands of fleeting glimpses of a rushed humanity that bombard the busy thoroughfare just beyond it's front steps.  Out on…
► CONTINUE READING
October 21, 2007
For the ordinary soul who owns not a boat or a plane, the only way there is by your own two feet, one step at a time. Unless you are the ordinary soul's dog, in which case it's more like your own four feet, two steps at a time or something like that. In other words you're just gonna have to hike. Eight miles. On sand and cobblestones loosely piled up between vertical mountains and the deep blue sea. Only at low tide. Higher tides and the surge of large swells will submerge that little eroding sand bridge to which your feet (or paws) will hopefully remain planted upon. One such surfer and his dog endured that hike in the late spring one year, after a season of heavy storms, which swelled the creeks and brought with it a series of rock shattering swells and a fierce longshore current that removed all but the most stubborn sand deposits. Oh sure, they scored some quality surf, but it was a ride they took on the hike back that would define the trip. It was one of those days when the low tide wasn't really very low. Combined with the somewhat unruly and large swell, these were not the optimum conditions for attempting this hike. But since boatless , planeless, and now food…
► CONTINUE READING