Chains of oppression
Forged of human weakness
Masquerade as strength
Behind machines
With a thousand different ways
To spill blood
A chain of command
Sends a child
To destroy a town
That could have been his own
And it may just break that child
Or may by him be broken
He stands beside the caravan
Shaking beneath the weight
Of what he's about to do
To the city that rises
Like flames
Beyond the rolling hills
He's been told they have strayed
Lost their way
And need this show of power
To be brought back to the fold
United again
He believes
In better days ahead
But his body is weak
From hunger
And he remembers his home
His grandmother
Strength masquerading as weakness
Her kitchen full of the aroma
Of fresh baked bread
And her frail arms
That could hold the whole world
Or just him
And him alone
Above her table hung an embroidery
"Give us this day our daily bread"
That would bounce crooked on its nail
Every time he ran out the backdoor
And down the wood steps
Into the rolling hills
Beyond
Standing on this hill now
He's suddenly struck
Not by bullets
But by the memory
Of his grandmother's voice
Speaking softly over him
Of the Shepherd that leaves
The flock to save one lost sheep
And in one final act
Of holy defiance
He drains the fuel reserves
And watches the river
Spill its bloody rainbow
Into the roadside ditch
Before he looks to the sky
Lays down his rifle
And walks slowly
Into the rolling hills
Beyond
Where he waits
For their bullets
To carry him home
The chain of command
Has broken this child
But for him
And him alone
The chains that once bound him
Have been broken forever
In that roadside ditch
Where they lie
—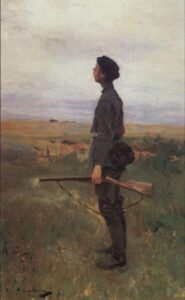 Sure, this was inspired by reports of young Russian soldiers abandoning their posts in Ukraine, but it could also be about any soldier finding themselves caught between obeying orders and taking innocent lives. Or any of us caught in that awful space between what is expected and what is right.
When I came across this painting by Konstantin Korovin, a Russian Impressionist from the late 1800's, it struck me as a beautiful reminder that even though war is inevitable, we all look up at the same sky and ultimately only war against ourselves.
Let mercy be the rule.
-Matt Beard