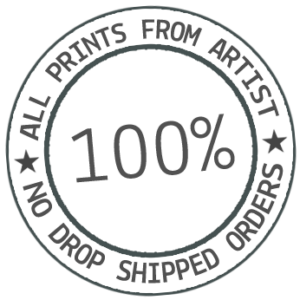 Every print I sell on this site passes through my hands.
We have a 10+ year relationship with a great printer. Canvases are stretched at Eureka Art and Frame Company, a local frame-shop that also houses our gallery. We handle the rest, touch-up, varnishing, framing with our basic lath frames, signing, numbering limited editions, certificates, etc.  Even the books we sell are self-published and distributed. Everything we offer comes directly from our hands to yours.
We do not offer any of the unsigned drop-shipped-from-the-printer-without-ever-being-seen-by-the-artist prints that have become very common in the online art world.
We take great pride in our work and stand behind it, because it IS our work.